Conquer the Cold returns in mid-January! Get ready now by forming your team. 
Conquer the Cold Information
How The Challenge Works

Participating via our challenge website is the best way to win prizes, connect with others, and calculate your impact during the challenge.

1. Make an account by going to the challenge website at www.commuteandwin.org, or download the Commute Central app from the App Store or Play Store.

2. Navigate to the Challenge Dashboard to select "Conquer the Cold 2024". "

3. Create or join a team. Forming teams with co-workers, neighbors, and other members of your community is encouraged. If you aren't participating with a group, you are welcome to join getDowntown's team: "getDowntown Retro Riders."  Prizes will be awarded to individuals, not teams, but it's more motivating to complete the challenge with others!

4. Starting January 15th, log your commute and other trips taken by bus, bike, walking, rolling or carpooling to earn points. You earn:

2 points for trips taken by bus, bike, carpool, walking, vanpool, active rolling, roller skate/rollerblade, scooter/e-scooter, jog/run, ski, and skateboard

1 point for telecommuting

0 points for driving alone

5. Earn rewards and digital badges based on your participation. 

6. By February 20, finish logging any trips you took between January 15 and February 15, 2024 that you want to count towards the challenge.

Prizes to be announced soon for the top 3 individual point totals!

Winter Commuting Resources & Videos

For future bus riders:

For sidewalk users:

For people who want to drive less:

For aspiring and current bicyclists:

Conquer the Cold Calendar

Join us and invite others to the events below. You can find additional details about these events on our Events page. 

Conquer the Cold 2024 Kickoff – January 9, 11:30am

Online Info Session for VanRide – January 18, 11am | Click here for more details.

Conquer the Cold 2024 Mixer – February 1, 5-7pm

Park & Ride Meet Up – February 7, 6pm

Buddy Walk – February 13, 8am

 

TEAM CAPTAIN RESOURCES

The first person to start a new team when joining the challenge is designated as the team captain. Here are some tips for motivating and growing your team!

Pick up free resources and trinkets for your team from the getDowntown Program! Resources include bus schedules, postcards on how to ride the bus, poster

s

on how to bring your bike on TheRide, and more. Simply reach out to us

to make arrangements. 

Invite co-workers, family and friends to join you at one of our events or ask them to complete one of the social media activities with you!

Claim your Conquer the Cold beanie after getting 5 or more people on your team logging trips on commuteandwin.org by the end of the challenge. We'll reach out to you about picking up your beanie if you qualify. 

For questions, ideas, and troubleshooting help, contact info@getdowntown.org
Conquer the Cold Returns in January!
Click the buttons if you are ready to register or take the pledge. Find information about how the challenge works below.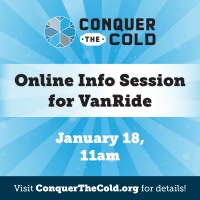 Thursday, January 18 - to Thursday, January 18
TheRide's VanRide service is available to people traveling to a work location in Washtenaw County, including those who live outside of county lines. Join this session to learn about how to sign up, what costs are included, and more. You can ask questions or keep your camera off and just listen. Register here to receive the Zoom meeting link.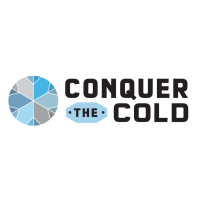 Tuesday, January 10 - to Friday, February 10
The getDowntown Program is pleased to congratulate all those who walked, rolled, carpooled, and used the bus during the Conquer the Cold challenge. The annual campaign engaged 214 participants who demonstrated that it is possible to get around without driving alone during the winter months.