Conquer the Cold is Coming!
The Polar Vortex did not stop the 2019 Conquer the Cold Challenge! And early winter weather has us prepared for the 2020 Challenge!
Over 500 commuters logged nearly 12,000 alternative commutes. In total, commuters avoided driving over 55,000 miles during the month-long event by walking, biking, carpooling, riding the bus, and telecommuting, running and skiing. Let's beat those numbers this year!
Registration opens for the Conquer the Cold Challenge December 2, 2019.
Keeping track of your commutes is fun and easy. Our cool, mobile friendly website keeps track of your individual progress as well as how you compare to others. Learn more at challenge.getdowntown.org.
Registration opens December 2, 2019 ! #OwnWinter
Conquer the Cold Information
Winter Commuting Tips & Videos

Tips on how to ride the bus in winter weather are available on TheRide's YouTube channel under the Winter Riding Tips playlist.

Conquer the Cold Calendar

December 2, 2019 - registration opens
January 1, 2020 - The Conquer the Cold Challenge begins!
January 31, 2020 - The Challenge ends
February 4, 2020 - All commutes must be registered to be eligible for final prizes
February 21, 2020 - Last day to download your information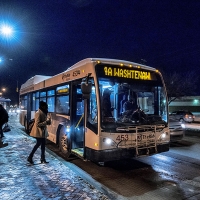 Thursday, February 21
The Polar Vortex Didn't Stop Commuters from Conquering the Cold