Conquer the Cold
Click the buttons if you are ready to register or take the pledge. Find information about how the challenge works below.
Conquer the Cold Information
How The Challenge Works

1. Make an account by going to the challenge website at www.commuteandwin.org, or download the Commute Central app from the App Store or Google Play.

2. Check the Challenge Dashboard to find the Conquer the Cold 2023. 

3. Create or join a team. Forming teams with co-workers and other members of your community is encouraged. If you aren't participating with a group, you are welcome to join either "Motivated Newbies" or "Dedicated & Determined." Prizes will be awarded to individuals, not teams.

4. Starting January 10th, log your commute and other trips taken by bus, bike, walking, rolling or carpooling to earn points.

5. Earn rewards and digital badges based on your participation. Visit the downtown businesses listed on showyourloveA2.org/conquer-the-cold-downtown to stay warm and motivated throughout the challenge!

6. Finish logging any trips you took between January 10 and February 10, 2023 that you want to count towards the challenge by February 19, 2023 in order to be entered to win prizes.

Prizes include:

Log a qualifying trip during the first week of the challenge (January 10-16) to be entered to win two tickets to the Ann Arbor showing of the Bicycle Film Festival on February 9th at the State Theater.  You must log your travel to the challenge website or app by 8am ET on January 17 to be eligible for this prize. (Prize sponsored by the Ann Arbor DDA.)

If you need assistance navigating the challenge website, check out this 5 minute video tutorial. 

Winter Commuting Tips & Videos

Listen to the Conquer the Cold segment on CTN's Soapbox to learn how to sign up for the challenge, what you can gain, and five winter commuting tips.

Tips on how to ride the bus in winter weather are available on TheRide's YouTube channel under the Winter Riding Tips playlist.

Cyclists may find helpful local information about riding in colder conditions through Common Cycle's Winter Workshop Series. Common Cycle also welcomes the public to seek help from volunteers and use tools to maintain and repair bicycles at their dedicated workspace (416 W. Huron St., Suite 11, Ann Arbor, MI 48103) on Sundays from 11am to 3pm.

 

2023 Conquer the Cold Calendar

Calendar highlights are below. 

January 10: Challenge begins!

January 10 - 14: Everyone starts somewhere so this week we celebrate taking the first step of many more to come. Earn a badge by recording a trip during this time period.  

January 15 - 21: Warmth can come from within so this week we encourage kind acts as you Conquer the Cold. Earn a badge by recording a trip during Warm Hearts week. 

January 18 - As part of Conquer the Cold's Warm Hearts Week (January 15 – 21), getDowntown will host an information table in the Blake Transit Center from 4-6pm. We invite bus riders to learn more about Conquer the Cold Challenge and Ann Arbor's Supportive Connections program.

January 22 - 28: Your actions are having an effect so we're celebrating the positive ripples spreading throughout Ann Arbor during Conquer the Cold. Earn a Positive Ripples badge by logging a trip during this time period.

January 29 - February 5: Stay motivated by joining one of the Conquer the Cold group events or organize a get together with your challenge team to visit a partnering downtown business. Record a trip this week to earn a Go Together badge.

January 30 – Warm up with breakfast treats at the Plymouth Road Park-&-Ride. Park your car, use TheRide to reach work, and enjoy a warm beverage or snack before getting on the bus. Look for VanRide representatives between 7-9am. 

January 30 - February 3: City of Ann Arbor Transportation Planners, Suzann Flowers and Trevor Brydon, will be hosting a series of walk to work events as part of Conquer the Cold. From Monday January 30 to Friday February 3, Suzann and Trevor will meet folks at the parking lot at Veterans Park on Dexter Ave at 7:15am. Participants will walk 1.63 miles to City Hall together. If you want to really challenge yourself for Walk Week, join Suzann and Trevor and walk back to your vehicle, meet up will be at City Hall and the group will leave at 5:15pm.

February 1 – Warm up with breakfast treats at the Miller Road Park-&-Ride. Park your car, use TheRide to reach work, and enjoy a warm beverage or snack before getting on the bus. Look for VanRide representatives between 7-9am. 

February 5 - 10: The end of the challenge is approaching but that doesn't mean your excellent commuting habits need to stop. Celebrate your winter commuting groove by logging a trip and earn a badge. 

February 10: Challenge ends.

February 19: Final day to log trips that occurred during challenge period.

Register at commuteandwin.org and/or download the getDowntown Commute Central app.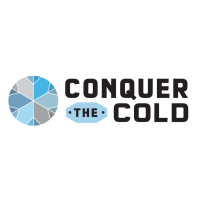 Tuesday, January 10 - to Friday, February 10
The getDowntown Program is pleased to congratulate all those who walked, rolled, carpooled, and used the bus during the Conquer the Cold challenge. The annual campaign engaged 214 participants who demonstrated that it is possible to get around without driving alone during the winter months.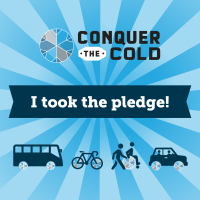 Wednesday, December 7 - to Monday, January 9
Are you participating in Conquer the Cold and eager to share your participation with everyone you know? This event has templates to share your participation on your social media accounts. Examples of what to use for your 'idea to action' statement are below the pledge. You can also download our "I took the pledge" images to use with your social media post.