Ready to #OwnWinter?
The Conquer the Cold Challenge is an online commuting competition that happens during the month of January. Employees of companies or organizations with 2 or more paid staff in the Greater Ann Arbor Area are eligible to join. Participants compete to see who can log alternative commutes during this frigid winter month.
Keeping track of your commutes is fun and easy. Our cool, mobile friendly website keeps track of your individual progress as well as your organizations progress. Learn more at challenge.getdowntown.org.
Registration opens December 3, 2018 ! #OwnWinter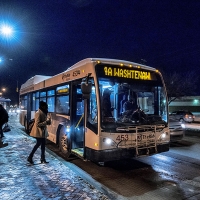 Monday, December 3
Get ready to OWN WINTER Conquer the Cold is a Winter Commuting Event to motivate you to do alternative commutes during the winter months.
Registration for Conquer the Cold starts December 3, 2018. Practice entering commutes during December to gear up for the challenge that runs from January 1st - January 31st. 
Log your commutes and win prizes!