Maps
Bike
Border-to-Border Bike Trail Map: East Ann Arbor to Washtenaw/Wayne County
Bike Layer for Ann Arbor on Google Maps: Click on Bicycling in the Getting Around section.
DDA Map: Shows bike parking in downtown Ann Arbor.
For Moped/Motorcycle: DDA Map: Shows Moped/Motorcycle parking downtown.
Walk
DDA Walk Map: Has information on different areas of downtown, parking locations, places to shop and eat, and more! Available online here. Available to pick up at the getDowntown Office or at any downtown parking structure.
Kerrytown District Map: Has information specific to the Kerrytown District of Ann Arbor. Contact contact@kerrytown.com for a copy. Also available at many Kerrytown Shops
Downtown Parking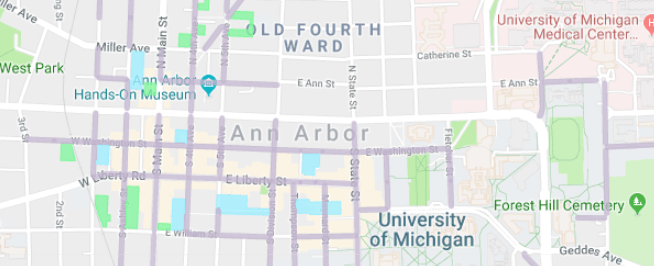 DDA Map: See parking options in downtown Ann Arbor through a2dda.org.