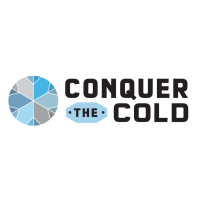 Tuesday, January 10 - to Friday, February 10
The getDowntown Program is pleased to congratulate all those who walked, rolled, carpooled, and used the bus during the Conquer the Cold challenge. The annual campaign engaged 214 participants who demonstrated that it is possible to get around without driving alone during the winter months. Between January 10 and February 10, 2023, participants recorded 6,430 trips while covering a distance greater than traveling around the earth's equator 2.5 times – all without driving alone.
Participants logged commutes that they took to work, doing errands, or recreational activities. Participants received one point for teleworking and two points for all other non-drive alone trips. Some transportation methods included carpooling, biking, walking, and rolling. Participants could earn no more than eight points per day (2 round trips).  Half of participants recording trips earned 50 points or greater, and 40 individuals earned at least 100 challenge points. Three individuals exceeded 200 points, with the highest point total being 248.
Of the logged trips, walking and biking were the most used forms of transportation by travelers. However, teleworking and carpools trips contributed the most to the total distance reported by participants. These alternative transportation options provide potential for reducing greenhouse gas emissions when used as a substitute for driving alone. According to estimations from the challenge website, participants saved 13 times more fuel and greenhouse gases than they burned or produced during the challenge.
Participants had the option of creating teams with people they knew or sign-up individually. Several teams achieved notable feats. The team known as "Ann Arbor Ward 5" recruited the most participants. Team "Ann Arbor Ward 3" recorded the greatest distance per participant on their team. The greatest number of trips logged per participant was achieved by team "MDO Lab + Friends."  The final point totals can be found here.
Conquer the Cold is one of several programs that encourage commuters to use alternative transportation instead of a personal vehicle. Those looking to begin an alternative commute can contact the getDowntown Program for information. Upcoming alternative commute events include the Commuter Challenge and Bike to Work Day in May.