World Car-Free Day Challenge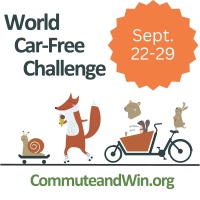 Friday, September 22 - to Friday, September 29
Starting on World Car-Free Day (Friday, September 22), log any travel where you use alternative transportation (bikes, buses, scooters, and more) for a chance to show your environmental impact and win prizes! The getDowntown Program is excited to partner with the City of Ann Arbor on this new initiative that begins the same day as the A2Zero Green Fair.
Download the Challenge flyer to share with your community!
Prizes and Points
Participants who join the challenge and log car-free or car-lite trips on CommuteAndWin.org between September 22 and September 29 will automatically be entered to win one of several gift cards to local restaurants.
Join the challenge and achieve the most greenhouse gas savings on CommuteAndWin.org to be recognized and receive a prize! The winner with the most GHG savings can claim a prize with supplies for a sustainable day out in Ann Arbor, including four 1-day bus passes, a one-of-a-kind upcycled t-shirt, a gift card to spend at your favorite sustainable restaurant, and more.
Points and teams displayed on the challenge dashboard are only for friendly competition and do not correlate to prizes. However, participants will notice they earn 2 points for car-free trips (such as biking, using the bus, or active rolling), 1 point for car-lite trips (like carpooling), and 0 points for driving alone.
Signing Up
Sign up and invite friends, family, and co-workers to join you on CommuteAndWin.org!
Need assistance? Watch the video tutorial on how to sign up and log trips. If you have other questions, please contact the getDowntown Program. 
More Information
World Car-Free Day is an international event with grassroots origins that has grown to be recognized by such entities as the UN Environment Programme, the European Commission, and many others. The City of Ann Arbor's Transportation Department and Office of Sustainability, TheRide, and the getDowntown program are introducing the local World Car-free Day Challenge to help community members reduce personal vehicle use and travel by walking, biking, or using public transit. Choosing alternatives to driving alone for your commute and personal trips can help Ann Arbor make progress to achieving the carbon neutrality goal to cut transportation emissions by 50% by 2030.