Conquer the Cold: Winter Riding and Visibility Pop-up Workshop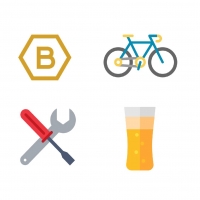 Saturday, December 15
Join us for a special workshop at our partner Bløm Meadworks on Saturday, December 15th from 2pm - 4pm. Here's the Facebook Event link.
We'll talk about the joys of commuting in the cold and dark season. We'll cover a range of topics, including:
visibility basics and lighting options
safe riding basics
what to wear
how to mentally prepare for your commute
navigating in the ice and snow, and more! 
We will also have a giveaways and a chance to get FREE high-quality light sets!

Additionally, there will be time for learning about and practicing winter bicycle maintenance, so bring your bike if you'd like.
This event is hosted by Common Cycle, Bicycle Alliance of Washtenaw and the getDowntown Program