What you need to know when there's snow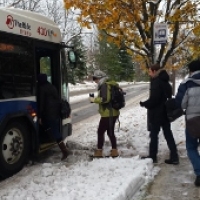 Published: Mon, 12/07/2015 - 11:38 AM
While it hasn't snowed much yet, chances are we'll see the white stuff flying at some point soon.
Here are some great resources on how to deal with the snow when it comes our way: 
Snow Resources for Different Communities
If you live in Ann Arbor, check out a2gov.org/snow for all sorts of snow-related resources and to track snow plows in real time.
If you live in Ypsi, you can go here to check out the rules for sidewalk snow removal.
If you live in a Township, check out the Washtenaw Road Commission website for general info on snow removal.
Snow and the Bus

If you are a regular bus rider, keep in mind that if your bus stop has a mound of snow in front of it, you should wait to board your bus at the nearest cleared area (such as a driveway).
For more winter bus tips, check out http://www.theride.org/HowtoRide/WinterRiding
MyAlerts
Did you know that you can receive text messages about weather related issues with TheRide buses?  Yep.  Check it out here.
Get Rewarded for Your Cold Weather Commute!
Don't forget to participate in the Conquer the Cold Challenge and get prizes for walking, biking, busing and carpooling during the winter! Click here for details.details.