This Saturday: Cycling in the City Bike Safety Class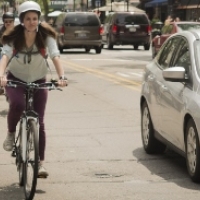 Published: Mon, 08/15/2016 - 10:49 AM
Are you interested in riding your bike through the city more often, but concerned about how to safely and confidently get around or how to interact with others on the road? 
If so, then join Common Cycle for "Cycling in the City" on Saturday, August 20th from 9:00 to 1:30 at the University of Michigan Outdoor Adventures Center! 
Learn about how to navigate city streets, interact with other drivers on the road, prevent crashes, and practice your skills on a 4-mile ride around Ann Arbor. 
Bring your bike, your helmet, and any questions you may have, and get prepared to ride around the city!
Register for the class at the following website- *space is limited so please only register if you plan to attend*:
Registration here: https://goo.gl/forms/Xq4Guf9HVa7j9SkG3