Regional Transit Authority Unveils Its Draft Master Plan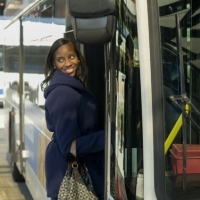 Published: Wed, 06/01/2016 - 11:02 AM
The Regional Transportation Authority of Southeastern Michigan (RTA) just released its draft Master Plan to the public.
How does this impact you?
Some of the potential transit options outlined in the plan could make it easier for you to get to work in Ann Arbor.
Regional rail between Ann Arbor, Ypsilanti and Detroit
Bus Rapid Transit on Washtenaw Avenue
Other plan elements include a regional fare card and technology, AAATA-SMART Bus Connection, regional airport service, rail feeder service and much more.
Click here for more information on the draft Master Plan.
The RTA is planning on hosting meetings in Washtenaw County to get feedback on the plan:
June 11th, 11am-1:30pm at WCC Liberal Arts Building Room 27
June 13th, 7-8:30pm at the Ann Arbor District Library Downtown
June 27th, 6-8:30pm at the Washtenaw County Learning Resource Center