Press Release – Commuter Challenge 2018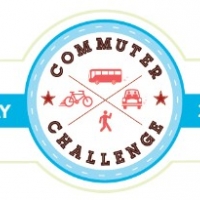 Published: Tue, 06/12/2018 - 3:11 PM
Over 35,000 Alternative Commutes Logged During 2018 Commuter Challenge
ANN ARBOR, MI – The getDowntown Program is excited to announce that over 35,000 alternative commutes were logged by almost 2,300 commuters in this year's Commuter Challenge held during the month of May. These commuters, from 307 different organizations, commuted to work by walking, biking, taking the bus, carpooling, vanpooling and telecommuting.

The Commuter Challenge encourages commuters to travel to work using alternative modes of transportation during the month of May. The goal of the challenge is to encourage people that may not otherwise use alternative modes of transportation to use it at least once during this competition. By doing so, they may be more inclined to continue after the competition is complete. Participants earned points for the challenge by logging their alternative commutes at commuteandwin.org and referring friends, neighbors, or co-workers to do the same.

The winning organizations that had the most commutes are:

· Extra-Small Organizations with 2-10 employees: Alert Watch
· Small Organizations with 11-20 employees: Nutshell
· Medium Organizations with 21-50 employees: Lakeside Software
· Large Organizations with 51-100 employees: SmithGroupJJR
· Very Large Organizations with 101-500 employees: Washtenaw County Trial Court
· Extra Large Organizations with 501+ employees: Zingerman's Community of Businesses

"We appreciated all of the energy provided to this year's competition," Chris Simmons, Director of the getDowntown Program said. "We were really excited to be working with new partners for Bike to Work Day, especially the Bike Alliance of Washtenaw, and are looking forward to ways to do more events with partners for next year."

The getDowntown program would like to thank everyone who participated in this year's challenge! A special thanks to all of the sponsors and business supporters of Bike to Work Day and Commuter Challenge: Great Lakes Cycling, Sweetwaters, Tree Fort Bikes, Wheels in Motion, Zingerman's, The Local Bike Shop, Morgan & York, Ann Arbor State Bank, the YMCA, Argus Farm Stop, Beezy's, Common Cycle, Fraser Bicycle, Mighty Good Coffee, People's Food Co-op, Sic Transit, University of Michigan Climate and Space Sciences and Engineering, Washtenaw Dairy, University of Michigan Logistics, Transportation, and Parking, Ann Arbor SPARK, Lakeside Software, the Main Street Area Association, Trove, Nutshell, University of Michigan Planet Blue, the Bike to Work Day sponsor Atomic Object, and the Sustainability Superstar sponsor, Google.

"Without the support of our sponsors, we wouldn't have had such a successful Challenge," Kelly Schwartz, Commuter Services Specialist with the getDowntown program said. "We appreciate all of the sponsors and other community organizations that made such generous donations."

The Commuter Challenge is organized by getDowntown Program, a partnership of the Ann Arbor Area Transportation Authority (TheRide), the Ann Arbor Downtown Development Authority, and the City of Ann Arbor. This year's Commuter Challenge Sustainability Superstar Sponsor is Google. For up to date information on this and other benefits of commuting by alternative modes of transportation, visit getDowntown.org.
###
The getDowntown Program provides commuting programs and services to downtown Ann Arbor employees and employers. A program of The Ann Arbor Area Transportation Authority (TheRide), getDowntown's partners include the Ann Arbor Downtown Development Authority, and the City of the Ann Arbor.Programs and services include commuting information and resources to downtown employees, the go!pass program, bike locker and bike house rentals and events like Conquer the Cold and the Commuter Challenge.