Howard Walks Over Greg to Commuter Challenge Victory!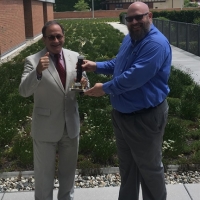 Published: Thu, 07/27/2017 - 6:11 PM
Trophy Awarded to City Administrator with Much Pomp and Circumstance
Ann Arbor City Administrator, Howard Lazarus literally walked over Washtenaw County Administrator, Greg Dill to score a victory in the 1st Annual Howard vs Greg Commuter Challenge. 
The Administrators went head to head during the month of May to rack up alternative commuting points for the competition. Howard bested Greg with 28 alternative commutes to 16 alternative commutes. 
The competition between Howard and Greg showed their commitment to alternative transportation and we think they definitely influenced others to do the same.
The humble champ commented on his victory, "I am proud of both the City and County staffs for their support of the Commuter Challenge.  We are all winners, although the hardware does reside at City Hall!!!"
Not backing down from his respectable 2nd place finish, Greg said, "I may have 'just' been a runner-up this year, but that won't happen again!  I've got a year to condition for the next commuter challenge, and that trophy is going to look really nice on my desk, Howard!" 
We are all looking forward to Commuter Challenge 2018!