Delay in 2021-22 go!passes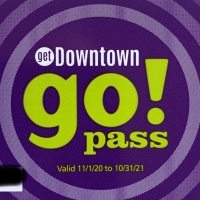 Published: Thu, 10/07/2021 - 1:48 PM
Downtown Ann Arbor, we have a problem...
Our shipment of 2021-22 go!passes is being held up by the global backlog in shipping, and we're not going to have them prior to November 1st.  So, we need to yet again find our way through and be creative. Here's how this is going to work:
Starting November 1, 2021, the current (purple) go!pass will no longer work when swiped at the farebox. Go!pass holders will need to show their pass to the driver in order to board. The driver will press the button on their console to count the fare.
As soon as the new (blue) pass arrives, we will begin filling orders.  We will be sending emails as soon as those orders are ready for pickup or are going in the mail.  At this time, we believe that will be sometime in mid-November.
When we have filled all the existing orders, we will send out information by email and social media stating exactly when the purple passes will no longer be accepted.  At that time, the only valid passes will be those for 2022 (blue).
So what do you need to do?
Businesses should get their 2021-22 orders in TODAY!  The sooner your order is in, the less problems we will have in processing it.
Check with your existing staff and confirm that everyone who is supposed to have a go!pass does.  If you need replacement passes, order those ASAP so that we can get them to you prior to November 1.
But I have questions...
It's after November 1 and I need more passes, what do I do? -- Order additional passes through the order form.  We will contact you and see if you need passes immediately, in which case you will get some purple passes to hold you over.
What if we aren't coming back into the office right now, but are waiting? -- You can hold off on ordering until you know exactly when you are coming back to the office.  The order form is available year-round.
I have employees who are here in October, but have left in November. Do I need to worry about getting their pass back? -- Yes. Until the new (blue) passes are distributed, you need to manage the passes like you always do.
Please contact us at info@getdowntown.org if you have any questions at all!