Conquer the Cold Challenge Week 3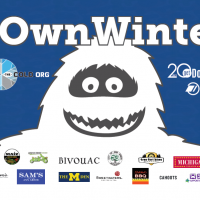 Published: Mon, 01/13/2020 - 3:58 PM
It's tough to believe we are already in Week 3, but here we are! From January 13th through January 19th, we're looking for your picture with one of the campaign posters placed at several businesses as well as on the inside of TheRide's buses running throughout the area. It can be a selfie, a posed photo related to your commute, a group photo, or even an art photo, as long as it includes the poster in the photo.
What to do with the photo you ask? Well, if you want to be lazy about it, just go ahead and email the photo to us at commute@theride.org. But, if you want to get into the spirit of this week's event, post it to your social media with the hashtags #IFoundAYeti and #OWNWINTER and give us a tag on our accounts (@getdowntown on Facebook, Twitter, and Instagram). Posting to Snapchat or TikTok? Sorry, we're not on there so we won't see it!
We have a lovely selection of gift cards for this week's challenge, including Maiz, the M Den, and Satchel's BBQ. A big thanks to all our sponsors for their support!