Commuters Brave the Cold!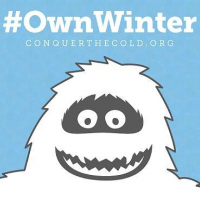 Published: Wed, 03/04/2020 - 11:00 AM
Commuters Conquered Snow, Rain and Spring Temperatures During Conquer the Cold Challenge
 ANN ARBOR, MI – The getDowntown Program, along with the Ann Arbor Area Transportation Authority (TheRide), is pleased to announce the results from this year's Conquer the Cold Challenge held during the month of January. Over 300 commuters logged more than 7,500 smart commutes. In total, commuters avoided driving over 49,000 miles and prevented 55,000 lbs of carbon emissions during the month-long event by walking, biking, carpooling, riding the bus, and telecommuting, running and skiing.
 The Conquer the Cold campaign is designed to educate and encourage commuters to travel to work using modes of transportation during the winter months other than driving alone. Through education, outreach, and different fun challenges, the campaign aims to help commuters get over the potential barriers of changing their pattern in colder weather. The goal is to show that it isn't as difficult to get to work without driving as it may seem.
 Individuals logged their commutes on the getDowntown challenge website and earned badges based on the number of logged commutes, earning them prizes. Participants also had the chance to enter weekly challenges to earn even more great prizes. 
"We truly enjoy the creativity, passion, and spirit of community that our participants bring to this challenge," said Chris Simmons, Program Director for the getDowntown Program. "Their stories of their commute and the images they share with us and the community really make this challenge a very fun time of year."
The getDowntown program announced the challenge winners on Friday, February 14. The winners and the prizes they received are:
Bivouac $250 gift card – Valerie with Ann Arbor Nannies
Bivouac $250 gift card – Feriel with the University of Michigan
Bike Light set from Tree Fort Bikes – J.F. with Michigan Medicine
$50 Gas card – Bonnie with the University of Michigan
Valerie, in receiving her prize, said, "I commute by bike and on foot year-round and absolutely love it! In addition to helping the planet, my health, and my budget, my alternative commute makes me constantly run into friends and neighbors on the sidewalk and it's so great to be able to easily stop and chat. It's also very satisfying not having to warm up the car or scrape off the windshield every morning in the winter! To help more people have great alternative commutes, I volunteer with the Washtenaw Bicycling and Walking Coalition, an advocacy nonprofit working to make the community even more bicycle and pedestrian friendly."
Feriel said, "I'm so grateful for the bus system, especially in the wintertime. Too often I've gotten far too cozy reading a book and missed my stop, and it's been worth it every time. My route to work involves a regular set of riders who I've been lucky to get to know, and I certainly wouldn't trade that camaraderie for a lonely 1-person car ride."
The getDowntown program would like to thank everyone who participated in this year's campaign, regardless of whether it was snowing or sunny, cold or spring-like.  A special thanks to the sponsors, without whom campaigns like this cannot happen:  Tree Fort Bikes, Footprints, SCRAP Creative Reuse, Maiz Mexican Cantina, The Michigan Theater, the State Street Theater, Satchel's BBQ,  Sam's Clothing, Bløm Meadworks, Jerusalem Garden, Domino's Pizza, Ollie Food & Spirits, The M Den, Sweetwaters, and Zingerman's.  A special thank you to Bivouac for continuing to donate the amazing Grand Prize, for Urban Rider Cargo Bikes as a sponsor at the Chilled City Worker level, and Cahoots as a sponsor at the Wintry Wayfarer level.
"We wouldn't be able to have the Conquer the Cold Challenge without our amazing sponsors," said Kelly Schwartz, Commuter Services Specialist with the getDowntown Program.  "We appreciate all of our sponsors and their generous contributions and support."
Conquer the Cold is organized by the getDowntown Program, a partnership of the Ann Arbor Area Transportation Authority (TheRide), the Ann Arbor Downtown Development Authority, and the City of Ann Arbor.  For up to date information on this and other benefits of commuting by alternative modes of transportation, visit http://www.getdowntown.org/. For information on the upcoming Commuter Challenge in May, visit www.getdowntown.org/events.