Commuter Challenge Week 2 Recap: Bus to Work Week
Published: Thu, 05/08/2014 - 4:25 PM
This week we saw a tremendous amount of love for TheRide!  Not only did we have the Transit Millage approved, we also saw some great transit themed photos from some of our Commuter Challenge organizations. Check them out below!
Team Spirit Challenge: TheRide Pride
This week we asked organizations to show their love for TheRide with a transit-themed team photo.  The winning orgs (determined by likes on our Facebook page) will get some pretty nice prizes.  There is still time to like your favorite photo here.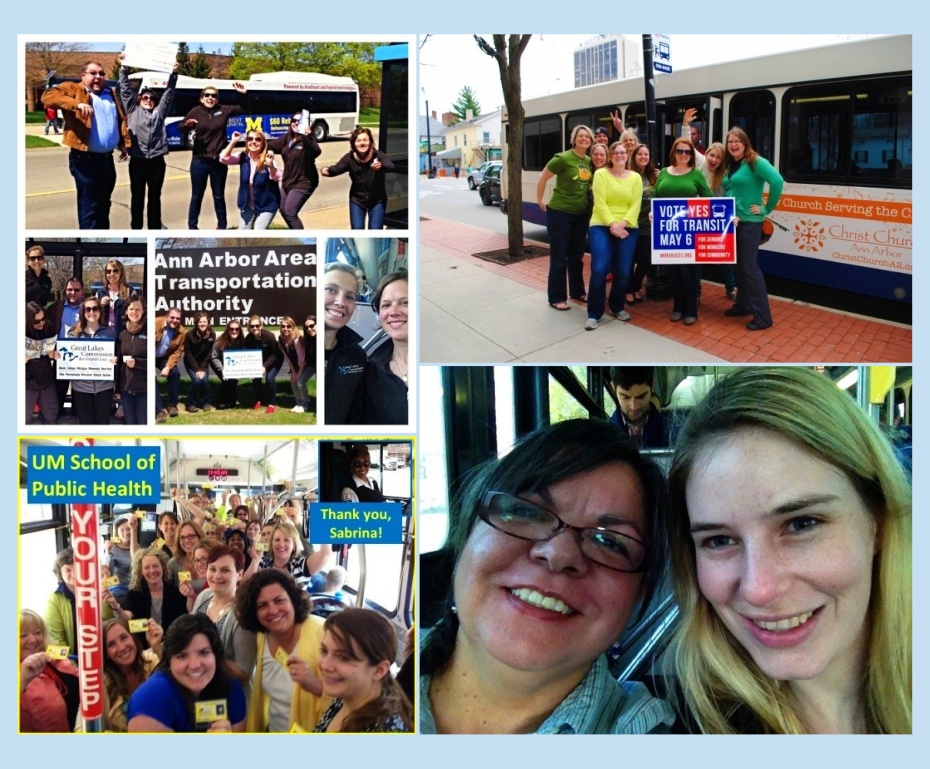 Who's Winning
We've got a lot of organizations running neck and neck in the Challenge right now!  Campus Chapel and The Greenway Collaborative both have 100% participation in the 2-10 person category.  
Ecology Center is leading the pack in the 11-25 person category, but don't count out Workforce Software or Bivouac just yet!
Denison Consulting is showing UM Graham Sustainability Institute and the UM Child Health Evaluation and Research Teams who's boss in the 26-50 person category!
Washtenaw Friend of the Court is once again dominating the 51-100 person category; but Arbor Research Collaborative Health and Workantile are not far behind.
In the 101-500 person category, it's a close race between ITHAKA/JSTOR, UM School of Public Health and Barracuda Networks. 
Finally, the 500+ category is being lead by Zingerman's Community of Businesses, followed by the City of Ann Arbor and the Toyota Technical Center.
Looking Ahead
Next week promises to be just as awesome.  It's Bike to Work Week and that means Bike Commuting Stations!  Check out all of the fun here.