Calling all Winter Bike Warriors!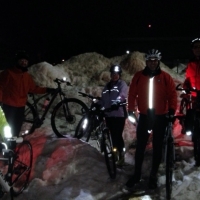 Published: Tue, 01/19/2016 - 11:24 AM
In honor of what seems to be the coldest week in January, we are challenging all of you winter bike commuters to show us what you're made of!
Send us a picture of you doing your winter bike commute and we'll post it on our Facebook page.  The top 6 photos with the most likes will get a free tune-up from one of the following bike shops: Tree Fort Bikes, Transition Rack or Wheels in Motion.

Also, don't forget that the Worst Day of the Year Ride is this Sunday!  Any hard core cyclist should plan on attending.