Announcing the Final Stats and Winner of the 2017 Conquer the Cold Challenge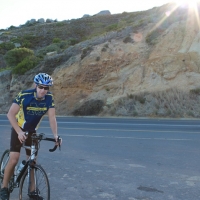 Published: Tue, 02/07/2017 - 10:36 AM
It's February and that means our Conquer the Cold Challenge is over. What a challenge it was!

Participation this year blew away last year by a whopping 47%! Yay for more alternative commuters!  
Here are the 2017 Conquer the Cold Final Stats:
Number of of participants: 605
Carbon emissions saved: 92,700 lbs
Number of calories burned: 595,600
Car miles saved: 77,900
Number of Trips Logged: 12,785
Most Trips Logged: MW from UMHS Internal Medicine, 62 trips and 4 referrals. Nice job spreading the word MW!
Most Walk Trips Logged: djulia from UM - Glotzer Group, 84 trips
Most Bike Trips Logged: DaleP from Washtenaw Community College, 62 trips
Most Bus Trips Logged: MaryAnneN from UMHS UMHS-Otolaryngology Head and Neck Surgery, 57 Trips
Number of participants who earned the Abominable Snowman Badge (and a chance at the $500 grand prize): 125!
Conquer the Cold Challenge Winner: Ryan Minnema from Llamasoft
Congrats to Ryan Minnema! We drew Ryan's name at random out of all everyone who earned an Abominable Snowman badge (40 or more commutes). He'll be getting a $500 gift card from Bivouac Ann Arbor to help keep him toasty warm for winters to come.

A little about Ryan in his words:

"I am a Project Manager at LLamasoft (a Supply Chain Design Software company). I do not own a car and rely on biking or carpooling to commute to work each and every day. I choose biking as my main form of transportation for the following reasons; for my health; for fitness; for fun; to avoid the Ann Arbor traffic congestion; and with the hope that if more people choose to bike to work, the better the cycling infrastructure will become in Ann Arbor."

A big thank you to everyone who participated in the Conquer the Cold Challenge this year and a HUGE shout out to our partners: Sweetwaters Coffee and Tea, Bivouac Ann Arbor, Great Lakes Cycling and Fitness, Tree Fort Bikes, Footprints on Main Street, The Local Bike Shop, Wheels in Motion, Ypsilanti Running Co., Zingerman's, Sam's Store, REI, Downtown Home and Garden, Ben & Jerry's, Ann Arbor Biking and Touring Society and Common Cycle. 
See you in May for Commuter Challenge 2017!