Alternative Transportation a Big Hit in January as Commuters Conquer the Cold!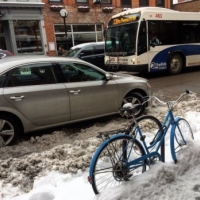 Published: Wed, 02/08/2017 - 10:33 AM
PRESS RELEASE
ANN ARBOR, MI –  The getDowntown Program, along with The Ann Arbor Area Transportation Authority (TheRide), is excited to announce a forty-seven percent increase in participation in the Conquer the Cold Challenge that took place January 1 – January 31, 2017, making this year's challenge the most participated Conquer the Cold Challenge to date for the organization. 
The Conquer the Cold Challenge encourages commuters to travel to work using alternative modes of transportation, including by bus, walking, and biking, specifically in the winter months. The goal is to entice people that may not otherwise use alternative modes of transportation to use it at least once during this competition, so that they may be inclined to continue to do so after the competition. 
This year, 605 people participated, which included over 200 participants that work downtown. Those that participated logged a total of 12,785 trips, burned 595,600 calories, saved carbon emissions totaling 92,700 lbs and saved 77,900 car miles. 
"Participation in the 2017 Conquer the Cold Challenge certainly exceeded all of our expectations," said Kelly Schwartz, Commuter Services Specialist with the getDowntown Program. "We had a large increase in bus commutes from last year, which could be due to all the big service improvements TheRide added. The milder weather in January most likely helped encourage commuters to ride their bikes and walk more than last year. We plan to build on this participation with our Commuter Challenge in May to encourage even more employees to choose alternative commuting." 
By participating, commuters were able to enter to win weekly prizes from a number of generous community partners. 
The next commuting challenge sponsored by the getDowntown program is in May, with the Commuter Challenge. For up to date information on this and other benefits of commuting by alternative modes of transportation, visit http://www.getdowntown.org/. 
The Conquer the Cold Challenge is organized by the Ann Arbor Area Transportation Authority (TheRide) and the getDowntown Program in partnership with The Ann Arbor Downtown Development Authority and the City of Ann Arbor.