2019 Commuter Challenge Success!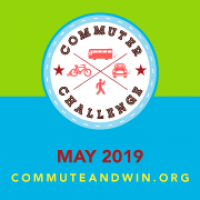 Published: Fri, 06/14/2019 - 12:00 PM
PRESS RELEASE  
For immediate release
June 10, 2019
328 S. Fifth Ave., Ann Arbor, Michigan 48104
getdowntown.org
Chris Simmons
734-794-1878; chris@getdowntown.org
2,200 People Competed in Commuter Challenge
Alternative Commuters from 275 different organizations participated
ANN ARBOR, MI – The getDowntown program, along with The Ann Arbor Area Transportation Authority (TheRide), is excited to announce that 2,200 commuters competed in the 14th Annual Commuter Challenge held during the month of May. These commuters, from 275 different organizations, logged almost 40,000 alternative commutes by walking, biking, taking the bus, carpooling, vanpooling, and telecommuting all while having fun and engaging with their co-workers and community.
The Commuter Challenge encourages commuters to travel to work using alternative modes of transportation during the month of May. The goal of the challenge is to entice people that may not otherwise use alternative modes of transportation to use it at least once during this competition. By doing so, they may be more inclined to continue after the competition is complete.  Participants earn points for the challenge by logging their non-drive alone commute at commuteandwin.org and referring friends, neighbors, or co-workers who then do the same.
The getDowntown program is pleased to announce the organizational winners of the competition. The organizations that had the most participation and won in their size category are:
Extra-Small Organizations with 2-10 employees: Generations Homecare System

Small Organizations with 11-20 employees: Atomic Object

Medium Organizations with 21-50 employees: Lakeside Software

Large Organizations with 51-100 employees: UM-Nephrology

Very Large Organizations with 101-500 employees: ITHAKA/JSTOR

Extra Large Organizations with 501+ employees: Zingerman's Community of Businesses
In addition to the organizational winners, the Challenge also is pleased to announce individual winners:
Grand Prize of a GenZe e-bike:  Russell from Zingerman's

Super Commuters:

Afternoon Delight Brunch for 4:  Lissa from A3C

Night Out Package from the Michigan Theater:  Ankit from Arbor Research, Charlene from Cascade Hemophilia Consortium, Joe from SmithGroup, Colin from the City of Ann Arbor, Eidilia from UM CLaSP, and Justin from AlertWatch

The Bell Tower Hotel, 1 night stay:  Kyleigh from Washtenaw County Trial Court

The Graduate Ann Arbor, 1 night stay: Kim from H.E.H. Human Electric Hybrids
"We appreciated all of the energy provided to this year's competition," Chris Simmons, Director of the getDowntown Program said. "We were really excited to see such an interest in our weekly social media events, with over 40 creative haikus and over 100 photos submitted.  We love engaging with the participants of the Challenge and appreciate the work of organizations such as the Ann Arbor Downtown Development Authority and Common Cycle to bring more commuting awareness events to the community during the Challenge."
Throughout the Challenge, individuals were able to enter to win weekly prizes, including a free scoop of ice cream from Washtenaw Dairy with their first logged commute.
The getDowntown program would like to thank everyone who participated in this year's challenge!  A special thanks to all of the sponsors: Sweetwaters, Zingerman's, Ann Arbor State Bank, Washtenaw Dairy, University of Michigan Logistics, Transportation and Parking, the Main Street Area Association, Nutshell, First Martin, Washtenaw Community College, ITHAKA/JSTOR, grand prize donor GenZe, the Bike to Work Day sponsor Atomic Object, and the Sustainability Superstar sponsor, Google.
"Without the support of our sponsors, we wouldn't have had such a successful Challenge," Kelly Schwartz, Commuter Services Specialist with the getDowntown program said. "We appreciate all of the sponsors and other community organizations that made such generous donations."
The Commuter Challenge is organized by getDowntown Program, a partnership of the Ann Arbor Area Transportation Authority (TheRide), the Ann Arbor Downtown Development Authority, and the City of Ann Arbor. For up to date information on this and other benefits of commuting by alternative modes of transportation, visit http://www.getdowntown.org/.